Online Dutch lessons for adults
We have offered online Dutch lessons for adults worldwide since 2013 at the level of 0>A1, A2, B1, B2, C1, and C2. These lessons can be given as preparation for the Dutch integration exam.
You will get started with your NT2 book with one of our certified teachers. Our online Dutch lessons help you improve your Dutch, reading, and writing skills.
The books we use contain themes that will come in handy when you want to move to the Netherlands. For example, themes like "work," "food and drinks," "your children's school," "sports," "traffic," "politics," etc.
In addition, our adult students also get access to our digital learning environment. Here you work on an up-to-date topic every week. We read texts about this topic together, listen to news items and then answer questions about it.
All materials needed for the lesson will be sent to you by email or post, and we'll let you know which book we recommend you to work with.
You get a good and straightforward overview of your performance based on tests.
Prices
45-minute lessons
| Installments | Price per installment (You don't pay VAT) |
| --- | --- |
| 36 lessons | € 1948 (€ 140,- discount) |
| 18 lessons | € 999 (€ 45,- discount) |
| 12 lessons | € 696 |
Family Discount
If you purchase 36 lessons for several students, you will receive a discount of €75 for the second and subsequent student.
Did you know?
Above prices are per student.
You can take any lessons left over to the next school year.
You can plan your holidays yourself, in consultation with your teacher.
What you'll get
A free introductory meeting
A free trial lesson
Online Dutch private lessons from a qualified teacher
Lesson from your own home through Skype, Zoom, or Teams
Dutch lessons that match your level
Twice a year, an assessment and a report
Interim consultation with the teacher about your child's progress
Access to our online learning environment
* You need to order the books for adult lessons yourself. We'll recommend which books are suitable for your level.
Get started with Dutch online lessons at Dutch for Kids!
Would you like a free introductory meeting and a free trial lesson? Fill in the information below, and we will contact you as soon as possible to schedule an appointment.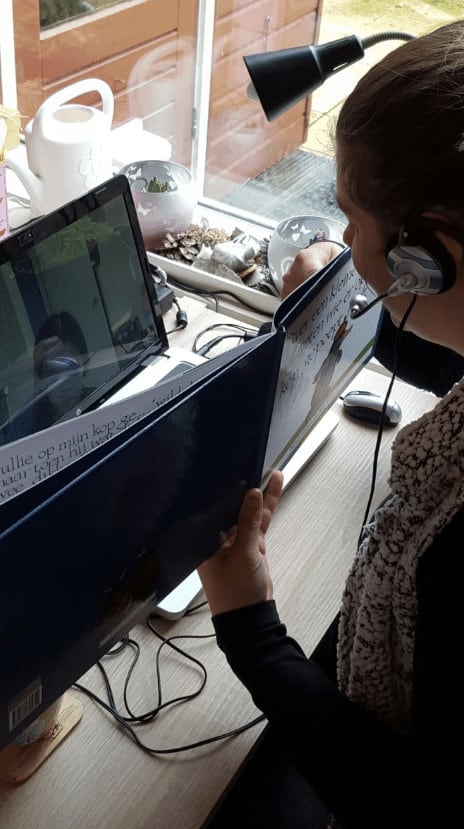 Examples
Some students can already speak some Dutch words. They learn to speak Dutch well and quickly within 3-6 months.
Other students will soon come to live in the Netherlands and want 3 Dutch lessons per week for two months.
Still, other students attend weekly Dutch lessons to keep their Dutch language abroad up-to-date until the time comes when they move back to the Netherlands.
We provide lessons for:
"Will we see you soon at the free trial lesson?"
Our dedicated and certified teachers are here to help:
jaar ervaring in online lesgeven
docenten staan voor je klaar